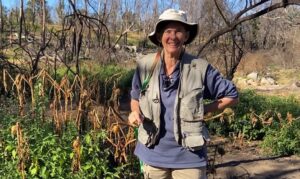 Join botanist Jackie Miles for a virtual walk along Dry River in Quaama six months after fire swept through the area on New Years Eve 2019. Find out what plants are coming back in the riparian forest and how different plants respond to fire. Make yourself a cuppa and have a look at this series of 3 videos we've enjoyed creating for you:
Weeds' Response to Fire (9 mins)
Due to restrictions on social gatherings this year we've been unable to organise our regular CMN workshops and field days. So we created this virtual field day series instead, with more to follow throughout the year. Let us know what you think, and send any suggestions for virtual field days you'd like to attend in the future to info@fsccmn.com.