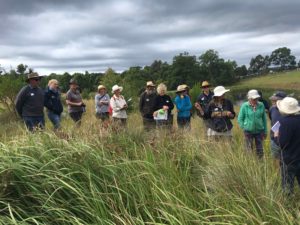 What are the native and introduced plants growing in your paddock? If you'd like help working out what you have, what to keep, what weeds to focus on and how to look after your pasture or native grassland, come along to this field day on Friday 6 December 2019, 9.30am-12.30pm near Kameruka/Bemboka.
Organised by the CMN and Local Land Services, with botanist Jackie Miles, LLS staff and BVSC weeds' staff, this will be a practical, paddock-based field day for both farmers and conservation land managers focusing on:
identifying introduced and native pasture plants
understanding the relative feed value of your pasture plants
maintaining native grassland and Lowland Grassy Woodland
weeds to watch for and how to manage them.
The field day is free and morning tea is provided.
RSVP to Ali Rodway on info@fsccmn.com or 0417 246 896