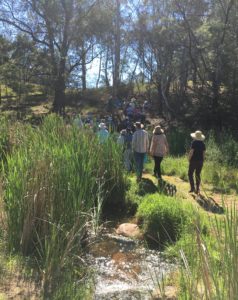 The Atlas Naturalists, part of the Atlas of Life in the Coastal Wilderness, is hosting a field day at the Bemboka River Reserve on Sunday 7 April, 10am – 3pm. Here is their message about the event:
The Bemboka River Reserve is an excellent example of Lowland Grassy Woodland, a Threatened ecological community. We'll learn more about the special character of the vegetation from local botanist Jackie Miles. We'll also conduct an insect bioscan, surveying the grasses, the creek and the river bed.
We'll meet at the Bemboka River Reserve carpark, before exploring the native grassland, creek and rivers of this open woodland.
The Atlas Naturalists is a new group for people interested in exploring the natural world. To find out more about the Atlas Naturalists and to join their mailing list click here.
Photo: Bemboka Reserve 2017, Ali Rodway