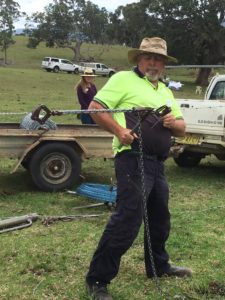 Fencing contractors Wayne Ubrihien and Terry Heffernan guided 25 participants through the steps of constructing a sturdy hinged joint fence at the CMN Introduction to Fencing Workshop on 15 October held at the Bega Travelling Stock Reserve. The workshop was practical with the chance to ask lots of questions and see examples of how to fence across a creek and across uneven terrain.
Discussions were also held about fencing to protect areas of your property from stock, including valuable remnant vegetation, steep slopes, swamps and boggy areas, revegetation sites, shelterbelts on ridges, shade blocks, rocky knobs and riparian areas. Wildife friendly fencing and fencing to exclude native animals and pests like deer from areas on your property were also touched on, as well as wombat gate design.
To see information, resources and photos on fencing prepared for the workshop click here.