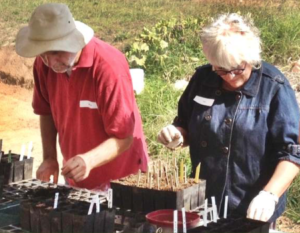 Have you ever wanted to propagate your own plants for revegetation projects using local native seed and cuttings? Karen Walker and Merryn Carey will lead you through the steps in a practical workshop on Friday 28 September, 9.30am – 1.00pm in Cobargo. The day will include:
Where to source seed, pre-treatment of seeds, seed sowing, germination & pricking out seedlings, fertilisers, hardening off plants, propagation through cuttings, growing rainforest and bush tucker plants.
Karen Walker runs the Far South Coast Landcare Seedbank and has worked and taught in the horticulture industry for many years. Merryn Carey runs South Coast Flora, growing and supplying local native plants including rainforest and bush tucker species.
The workshop is free with all materials, workshop notes and morning tea provided.
For bookings, contact Ali Rodway on 0417 246 896 or email info@fsccmn.com